Replacement Caps for Swing-Top Bottles - 1101C05

Product Information
Additional Product Information:
Container withstands autoclaving - sterilizing by achieved through high-pressure saturated steam and heat.

Product is BPA Free: no Phthalates and no Bisphenol-A. Non-Toxic Plastic.

BPA Non-Intent means BPA was not an intentionally added substance to the manufacturing process.

Case Packed in a convenient re-shipper carton with carboard dividers, reducing damage and ideal for reuse.

Child-resistant items are engineered & tested to reduce risks of children under 5 accessing harmful amount of contents, while being user-friendly for seniors.

Dishwasher safe containers withstand high temperatures, water pressure, and detergents present in dishwashers.

Products engineered to reduce negative environmental & economic impacts over their life cycle, from the raw materials to the final disposal.

Constructed of FDA approved materials (FDA does not approve specific items, just materials of construction). Visit www.fda.gov for more information.

Factory Mutual has tested & certified this product to ensure it meets rigorous loss prevention standards.

Product is safe for storing in freezer. Prolonged freezing temperatures won't damage container.

Product has the ability to resist degradation under extreme heat.

Container is suitable for high pressure processing.

Containers engineered to prevent leaks and unplanned evacuation of contents. Must be used with cap provided to ensure leakproof performance.

Product is suitable for microwave use.

National Sanitation Foundation certifies this product & its manufacturing process comply with standards for safety, quality, sustainability or performance.

Product is 100% recyclable.

A tamper-evident container has one or more barriers to entry which if missing shows visual evidence the container was tampered with.

Packaging engineered & rigorously tested to meet government standards for the shipment of regulated substances. Consult 49 CFR for proper use & labelling.

Product is manufactured in USA.

US Dept. of Agriculture Approved. Visit www.usda.gov for more information.

Product provides protection from damaging ultraviolet rays and the decaying effects it can have on sensitive materials.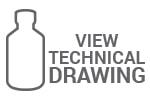 Related Products